Two new novels about the 1920s
The 1920s seem to be becoming more popular, and there are several great new novels out about the era. I read two recently that seem to be very well written and researched, and would be great for anyone who is wanting to get the feel of the 1920s. It's all in the name of research, to help you plan your 1920s-themed wedding, right?
Vixen
is the beginning of a new young adult series by Jillian Larkin. Some of the major scenes in this book take place in the speakeasies of Chicago, so it would be great reading if you are trying to copy the look and feel of an authentic speakeasy at your wedding reception. The descriptions of the girls' clothing is also good and may be helpful. While you're at it, don't forget to enjoy the book, too — it's a great story, and accurately shows how controversial the flapper lifestyle was at the time!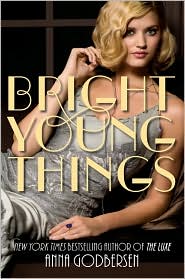 Anna Godbersen's book
Bright Young Things
may also be the start of a new YA series, since that's what Godbersen has written in the past (check out
The Luxe
and the books that follow it, about high society in New York City around 1900). Like
Vixen
, there are some good descriptions of the clothes that the girls wear, and some descriptions of speakeasies and high society 1920s parties. There is also a little more about bootlegging during Prohibition in this one. Unlike
Vixen
, however, it takes place in New York City, rather than Chicago. Both were main hubs in the Roaring Twenties, and where any wannabe flapper would go to pursue a new life.
Both of these books are available in ebook format, so you can download them and start reading right away!
In the sidebar I list several books about the Roaring Twenties, primarily about 1920s fashions, as well as a couple of good history books to give you a feel for the decade. But don't forget about the value of fiction when you are researching the era to help you plan your wedding, however. Well-written fiction can help you get a sense for what it was like to live in the 1920s, so that you can better plan your wedding!
Labels: research